Guest Policy
---
The Franklin County Sportsmen's Club is not a public shooting range, but a private, members-only club. The public is welcome as an invited guest of the club, a guest of a member, or at a scheduled public event.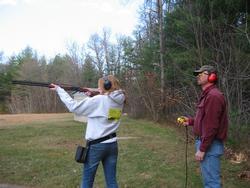 FCSC members may bring guests to the club, subject to the club's guest policy. (New members joining after 2/13/17 may not bring guests during their 6 month probation period.) Because a member is responsible for closely supervising a guest, a member may only bring 1 or 2 guests for a shooting session.
All guests must fill out and sign the Guest Waiver of Liability form as soon as they arrive at the club and BEFORE doing any shooting All guests must wear a Visitor Badge while at the ranges. Visitor Badges are located in the clubhouse on the wall by the Guest Waivers.
Guest Waiver of Liability forms can be downloaded here and can also be found on the wall just inside the classroom. Completed forms, with the $10.00 guest fee, should be put into an envelope and the envelope placed into the front part of the lockbox on the wall.
Members are responsible for remaining with and supervising their guests at all times.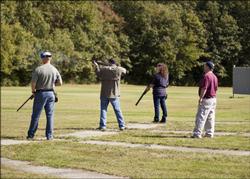 Shoot safely and have fun!
If you are interested in becoming a member, please visit the Become a Member page, which describes the application process.