Skeet and 5 Stand
---
---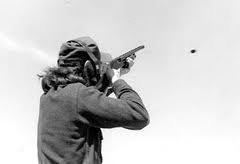 Trap & Skeet fields are open during regular skeet shooting hours and scheduled trap and skeet events.

Regular Skeet Shooting Hours are:
NOVEMBER THROUGH MARCH----Saturday & Sunday, 10:00 am to 1:45 pm or so (depending on weather and interest).
APRIL THROUGH OCTOBER
Saturday: 10:00 am to ? (depending on interest)
Sunday: 10:00 am to ? (depending on interest)
Thursday: 1:00 pm to ? and 6:00 pm to 7:30 pm (depending on interest)
$3.00 Per Round of Skeet (Members)
$5.00 Per Round of Skeet (Guests)
All guest must sign the club's liability Waiver.
(Note: Shooters must bring their own shotgun and ammo).
---
5 STAND IS OPEN!
Doug Blowers is opening the 5 stand for members on every other Saturday between 12 and 2 PM, weather permitting. 5 Stand dates are posted on our calendar.
The trap machines have been set to slower speeds and presentations. This was done to help build confidence with your shot gunning skills and to just have fun breaking clays. Don't miss this opportunity to practice your shot gun skills or build upon what you already accomplished.
Doug encourages all club members to bring a shotgun, ammo and have some fun. You may even find a new shooting sport to enjoy. $5 per round of 5 Stand (25 shots).
EVERY OTHER SATURDAY, 12 PM TO 2 PM, WEATHER PERMITTING.
$5 PER ROUND OF 5 STAND (25 SHOTS)
---
Please note that the club does not rent, sell or provide guns or ammunition. Also please note that the ONLY activities open to non-members who are not guests of a member are skeet shooting and 5 Stand shoots during scheduled sessions. NO OTHER RANGES AT THE CLUB ARE OPEN TO NON-MEMBERS.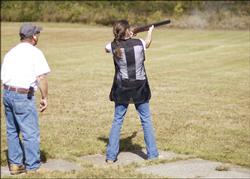 If you are interested in becoming a member, please visit the Become a Member page, which describes the application process.