Club Facilities
---
---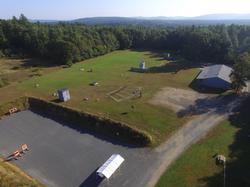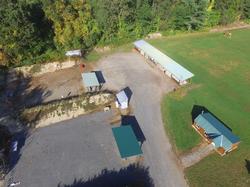 The Franklin County Sportsmen's Club owns and maintains a shooting range facility on River Road in East Deerfield, Massachusetts. All ranges are open to paid members only. The public is welcome as a guest of the club, a guest of a member, or at a scheduled club event.
This shooting facility is located on 81 acres of land and features the following:
The Arthur G. "Bud" Prentice Memorial Field House, a large clubhouse with:
Large meeting/lecture room (with heat and air conditioning, and wireless internet access for members)
Upgraded bathrooms with new fixtures and on-demand hot water
Outdoor Shooting Ranges
100 yard Rifle range (with pavilion)

200 yard Rifle range (with pavilion)

50 yard Rifle/Pistol range (May 2017)

3 25 yard Pistol ranges

(two with pavilions; the third with 2 steel plate target racks and a steel dueling tree target)

2 Skeet fields

2 Trap fields

5 Stand Shotgun range (April 2017)

Archery Range (Built May 2012)

.22 Rimfire Reactive Target Range (July 2019)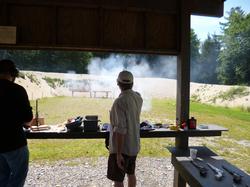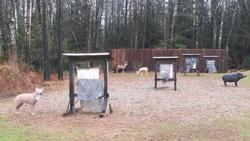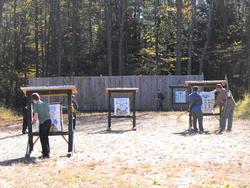 The outdoor facilities are plowed during the winter months to accommodate year round usage.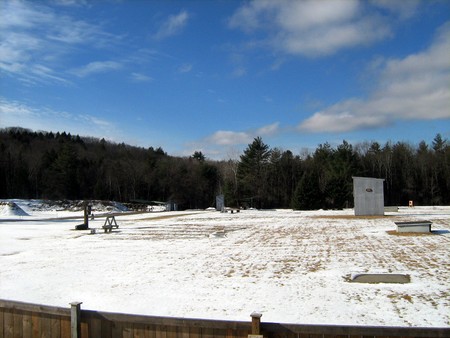 If you are interested in becoming a member, please visit the Become a Member page, which describes the application process.
8/22/15 FIELD DAY & PIG ROAST!
Thank you to Outlook Farms and Berkshire Brewing! And thank you to Chris Roberts, Ron Gleason and his NWTF crew, Highlander Arms, Tom Houston, Tom Childress, John Strakose, Dane Donato, John Burruto, Beth Roberts, Steve Crowningshield, George Holmes, Mark St. Amand, Steve Pdoleszny and Mark Siddall for all their hard work throughout the day and evening.
(Click on the photos to enlarge).
New Epoxy floor coating installed on indoor pistol range, shooting line and downstairs room by indoor range.
August 25, 2012 FAMILY ARCHERY DAY!
Early Fall Sunday at the Range
Miscellaneous Facility and Activity Photos
2012 construction of New Archery Range
New Teaching/Warming Cabin-- 2015