NEW .22 RIMFIRE REACTIVE TARGET RANGE!
On July 3, 2019, our new .22 Rimfire Range opened!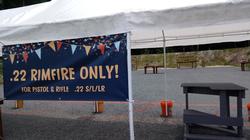 What is a "Reactive Target Range"?
Well, basically it is inspired by an old-fashioned, carnival shooting gallery. There are no target boards for paper targets, only standing steel targets and a great variety of rimfire targets that swing, spin, ring (yes, there are cowbells!), pop back up, etc.. Targets are set at varying distances from the firing line, offering .22 rimfire pistol shooters and rifle shooters different levels of challenge. Shooters never have to go downrange to set up a target!
This new range was made possible by the generous donation of money and work by over 60 club members. The total cost to the club for the construction of the range (including clearing trees and installing drainage), targets, materials for tables and stands, canopies and signage was $17,293.55. Donations are still coming in, but right now monetary donations total $7,695. In kind donations worth several thousand dollars were also received.
FCSC now has a .22 rimfire shooting gallery range that is one of a kind in our area!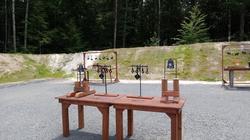 ---
Construction of the new .22 Rimfire Reactive Target Range.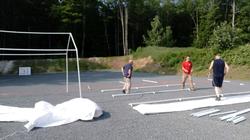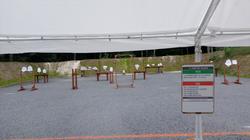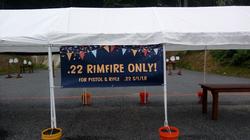 ---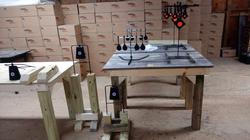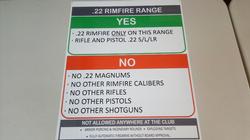 Posted: to News and Announcements on Sat, Jul 6, 2019
Updated: Sat, Jul 6, 2019