Become a Member
---
Thank you for your interest in the Franklin County Sportsmen's Club!
Download Membership Application
---
---
Please note that upon becoming members of FCSC, new members are on a probationary status for their first 6 months. During their 6 month probation period, members may not bring guests.
We have a limited number of memberships. Approved applicants may have to go on a numbered waiting list until a membership opens up.
---
Annual Membership ($165): An individual for one year. (Family member may be brought as guest a reasonable number of times, otherwise convert to family.)
Family Membership ($195): An Individual plus spouse or domestic partner, and school age children for one year. All adults on a Family Membership must complete applications. (Children can be attending a 4 year college but after graduation,or graduation age, are considered an adult and must have a membership of their own.)
Senior Membership ($105): Age 65+ for one year. Covers member and spouse.
Student Membership ($90): A full-time student for one year.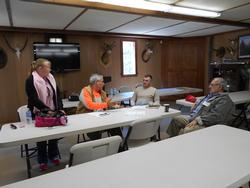 Board Members on the Membership Interview Panel at work.
---
NEW MEMBERSHIP APPLICATION PROCESS
---
---
We have a limited number of memberships available. If you have never been a club member, or if you have not been a member for 6 months or more, the membership application process is as follows:
Please print, fill out completely and sign both the New Member Application AND Questionnaire forms below. A spouse or domestic partner on a Family Membership must also complete all forms. (Click on the icon at the bottom of this page to download the form).
Mail the completed and signed forms to the club's business address listed on the forms or email to bobgoss64@gmail.com. Do not send in payment for the membership fee.
Within 2 weeks, you will be contacted by one of the club's Directors. They will schedule a time for you to come down to the club for an interview. If you are requesting a Family Membership (Family Memberships include a spouse or domestic partner living in the same household and dependant children) all family members who would be using the club need to come to the interview.
At the interview, prospective members will meet one or more Directors. This is our chance to get to know eachother and figure out if you are a good fit for the Club and if the Club is a good fit for you. Among other things, we'll ask about your interests and what activities you enjoy participating in. We will also give you a copy of the Club Rules & Regulations and Safety Guildelines along with a take-home quiz.
If your application is accepted following the interview, and after a review by club Directors, you will be contacted by the Membership Committee. They will schedule a time for you to come down for a formal club tour and orientation. At this time we will review you quiz, you will pay the membership dues, all applicants will sign a liability waiver, and you'll get your membership card and access fob.
New members will then attend the next scheduled Monthly meeting (3rd Wednesdays, 7:00 pm) to be introduced to club members.
If you would like to see the club facilities to help you decide whether you would like to apply for membership, please contact us to arrange an informal tour.
We look forward to hearing from you!
NEW MEMBERSHIP APPLICATION FORMS